Guided Duck Hunting
When you book your duck hunting trip with Bay Rat Guide Service, you will be transported to and from comfortable, well brushed blinds via airboat. We use the best hunting tactics in remote marsh areas around Matagorda Island and the Guadalupe River delta. To achieve success we use quality spreads of decoys dictated by time of season and population of ducks in the area. Our proven retrievers help make your hunt more enjoy able and rewarding. A party of four hunters is the recommended maximum, but larger groups can be accommodated. Unguided duck hunts are also available. Taxidermy services can be arranged.

Unguided Duck Hunting
Unguided duck hunts are also available. We transport your party to and from one of our blinds. You will be supplied with decoys and given a short briefing on the area you are hunting and any helpful hints needed to make your hunt more rewarding. This trip is a big hit with the outdoor photography groups.
Cast and Blast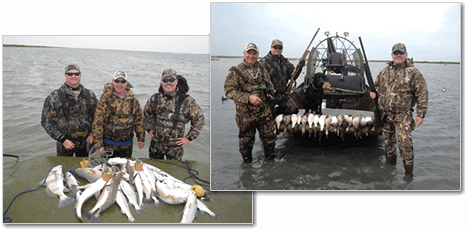 Many Sportsmen are not satisfied unless they get to spend an entire day outdoors, so Bay Rat Guide Service offers the thrill of hunting and fishing combined. After taking a daily bag of limit of ducks in the morning, we can then fish in the flats for trophy trout and redfish. Each of these packages includes complimentary photos of the action and catches.
Videotaping can be arranged for an everlasting reminder of your trip and memories that will last a lifetime.
Copyright 2002

Victoria Web Design